A realistic analysis of having a pet with congenital deafness and other hereditary disabilities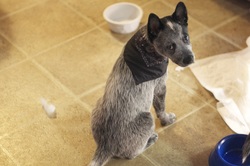 I was at work one day when my boss walked into my office followed by his wire-haired terrier, with a client behind him, who was followed by a large Black Labrador. We exchanged introductions and my boss mentioned to the gentleman that I own two Australian Cattle Dogs. It didn't take long for the conversation to turn to our pets and I casually mentioned that I adopted a deaf Australian Cattle Dog puppy, who I named Brody, and the conversation turned.
​He was
not
impressed.
I mentioned that this was an issue I was very passionate about, but understand most people's hesitations about owning one. I told him that I adopted mine a couple months ago, when he was 6 weeks old and I realized that they were going to euthanize the puppy if no one rescued him. The whole experience was a huge eye opener into the issue of euthanized deaf puppies and I have since started a Twitter, Facebook, and website/blog about the issue.
He admitted that he has owned multiple Dalmatians (a breed extremely prone to congenial deafness) and he wasn't actually opposed to euthanizing deaf dogs.
​I was shocked.
​
He started by saying there are two problems with deaf dogs, they hurt the breed of dog, and they are 'dangerous' to people. I'll tackle these each individually in the following paragraphs.
About hurting the breed… I agree wholeheartedly. Breeding deaf dogs will result in more deaf dogs, it has been proven to be hereditary and that should never be overlooked. If the idea is to make the breed stronger, smarter, or 'insert characteristic' then having a bunch of puppies being born deaf is probably counterproductive to the overall wellness and the future of the breed and it's abilities to perform specific tasks or jobs.
That doesn't mean we need to kill them.
Literally killing a puppy born over 4 weeks prior. It's not terminating a pregnancy, it's putting a newborn dog to death. I mentioned spay and neutering options. He seemed hesitant to agree that that would be a comparable option, but failed to mention why.
NOTE:
Congenital deafness, like what Brody was born with, is almost always hereditary caused by a gene that controls the amount of white pigmentation the dog's coat has. It also controls the hair cells inside the dog's ear, which stop developing properly when this gene is too prevalent at about 4 weeks old.
22% of Dalmatians, 12% of Australian Cattle Dogs, 11% of Bull Terriers, 10% of English Setters, 10% of Jack Russell Terriers, and 41% of Catahoula Leopard Dogs will be born with uni or bilateral hearing loss. Almost all of which will be euthanized. (percentages by Louisiana State University). I was never made aware that so many dogs are not only born deaf, but are being put down because of it. I was appalled to read that the Dalmatian Club of America's policy states that breeders MUST euthanize deaf puppies and in the event that a deaf puppy is sold or rehomed on accident it must be taken back and euthanized and replaced with a hearing abled puppy. They even admit that congenital deafness is caused by "the rising popularity of the Dalmatian breed" ie. inbreeding and over breeding, yet they take no responsibility for the problem and simply state that breeders must be prepared to euthanize all deaf puppies, and they "should NEVER be sold, placed, or given away[.]"
They claim that they care for the breed and as animal lovers want only what's best for them, yet they have no reservations about killing roughly 10% of the puppies born, when neutering or spaying the dog would accomplish the same thing, to keep congenital deafness out of the breeding line and prevent the issue from developing further. Instead of teaching the breeders responsibly and giving them information or options for puppies born deaf, they simply do away with them. The extra hassle of getting the dog neutered or spayed shouldn't eliminate the chance of the dog living a happy life, just because humans have over-breed their species to a fault.
On to the second issue.
The word 'dangerous' was used.
Dangerous. This is a serious accusation. But let's look at the logic behind this. Scientifically, being deaf does not cause increased aggression, at all. But I'll be honest. All dogs bite or at least can. Part of owning a dog is knowing that there is always that possibility. Ideally, an owner develops a relationship with their pet that includes mutual respect and love and from that they learn their role as a submissive companion. Celebrated dog trainers around the world agree that if a dog is trained properly with a dominate strong figure, there is little chance of an attack or bite. Cesar Millan, also known as the Dog Whisperer, openly states that he doesn't believe any dog is beyond rehabilitation (and that's after the dog has ALREADY displayed aggression). Aggression comes from the environment and the owner of the animal. Even dogs that have already attacked and killed people have been successfully reintroduced to society. We often allow previously aggressive dogs to be rehabilitated and trained, we don't euthanize every dog because it was born with a predisposition for aggression, we wouldn't have dogs if that were the case.
I am surrounded by dogs that have had little to no socialization, are overly-protective, territorial and aggressive. Neighbors of mine let dogs walk around the streets with no supervision, no gates or fences, and have obviously done nothing to teach their dogs manners. I've had random dogs try to run into my apartment to attack my cats. No owner in sight. I had a dog actually bite me right outside where I live, again with no owner in sight (that dog was lucky Blake wasn't with me). If we are going to talk about dangers in the world of K-9s my first complaint would be about how little people seem to care about ownership responsibility and that's where this problem stems from. From training to feces pick up.
Every dog is different and every dog breed needs specific things. For example, Huskies and other snow/sled dogs were bred to travel LONG distances for many many hours, with heavy loads. So for a happy healthy Husky, expect to take a few long walks every day. If you can't give the dog what the breed and what a DOG in general needs, and put the time and energy into properly training the dog, than you shouldn't have one. Plain and simple. Small or large, EVERY dog needs to be obedience trained and needs exercise, otherwise you end up with unreliable animals living in close proximity to you and others (which is unfair and could lead to losing your animal or legal actions). It's the owners' responsibility to raise their dog correctly and properly socialize it, for the sake of the dog and the people around it. Every dog has special needs, most people ignore this and hope that they end up with an angel anyway. It doesn't usually work that way. Pitbulls have a horrible reputation for aggression, because they have been bred and trained to kill and attack other animals, and as a result often display aggressive behavior. If you know that before you get one, it's easier to see the signs and keep steady with training regimes. When an owner corrects a dogs actions they must be consistent and firm as well as calm. Aggressive behavior is something that needs to be watched carefully from the beginning in ANY DOG and proper training is especially important when the dog has a condition that other don't know about or that might make it susceptible to increased aggression. Obviously you can't tell every person who meets your dog that he is deaf before they interact, nor should you. A deaf dog should respect your command and authority just as a hearing-abled one would, dogs with a strong owner never feel the need to take the alpha role into their own hands.
If you can train a hearing-abled dog to not bite, or TO bite, than training a deaf dog is no different, it's just harder for YOU to communicate, the dog doesn't care he's deaf, he's the same dog. Deaf animals and people are not disabled or handicapped the way a lot of people think. Really.... they just interpret the world a little differently than others because they have a different perspective of their environment.
I have found that most people who oppose deaf dogs as pets, have never interacted with one or gotten to know one, probably because so many of them are euthanized, which is the whole problem. It's hard to hear many success stories when they aren't given a chance to survive long enough to get adopted. I'm just asking for the chance for others to learn about these amazing creatures and hopefully dispel some of the nasty rumors about them and hopefully Save Deaf Dogs! Thank you so much for your time! Feel free to contact us for more information or if you'd like to become apart of our cause.